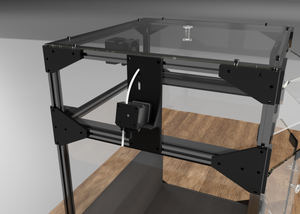 FT-5 E3D Titan Extruder Mount Kit
Regular price $20.00 Sale
Folgertech is out of business so the FT-5 enclosure and accessories have now been discontinued.
The good news is the plans for this 3D printer enclosure kit are available on Thingiverse so you can make it yourself!
Perhaps the biggest thing holding back the stock FT-5 from high print speeds is the weight of the extruder motor on the gantry.  The bowden design used by high end printers is designed to move the weight of the extruder motor off of the gantry, allowing the hot end to move that much faster with much less vibration. 
While the stock FT-5 normally has the filament come in from the top, once its enclosed, its better for the filament to enter from the side.  This kit, when paired with an E3D Titan will turn your stock FT-5 extruder into a full-fledged bowden.
The design of this mount is unique, and the result of many months of testing. With bowden designs, the shorter the PTFE tube the better to reduce the need for retraction. This design has the Titan mounted up as high as possible, and then angled for the shortest possible PTFE tube and thus the shortest retraction settings.  The unique dual 20x20 mounting profile provides a more secure base with less vibration and flex than typical single extrusion mount designs.  
Includes:
External E3D Titan mount printed in black ABS (Titan not included)
PTFE tube of the right length
Required but not included:
Titan compatible NEMA17 stepper motor
Bowden configured hot end, such as an E3D V6. 
Note: no parts on the hot end are included since those are specific to your hot end and how its mounted.  Typically the PTFE tube just inserts into the hot end.
DIY Corner
Want to print it yourself?  No problem, as long as its for non-commercial use.
If you like it, it would be a big help if you could post a link to this website, thanks!