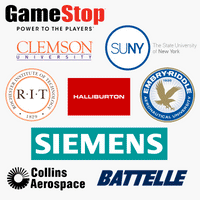 Thousands of 3D Upfitters customers have found that our enclosures help 3D printer owners to manage temperatures and consistently manufacture high-quality parts, remove dangerous plastic fumes, reduce noise, and automatically suppress fires.
Customers include not only the top tier in the technology, transportation, and education sectors, but small schools, small businesses, libraries, and hobbyists all over the world. 
We sell top quality products Made in America on using materials from American factories.
We don't make 3D printers; we make 3D printers work better.
Dual Channel 3D Printer Temperature and Air Quality Meter
Changes of season, with the thermostat ping-ponging between heat and A/C can be a challenging time to get consistent 3D prints. This dual channel temperature logger helps you track temperature changes over time to determine the optimal settings for your prints while monitoring air quality.
Product Details
Testimonials
I do really love this enclosure, the quality is amazing, and the results with ABS have been exactly what I was looking for! Saved me a bunch of money upgrading to a more commercial-grade printer to do what I need!

Ted M.
I wanted to send a note to you folks about how happy and impressed I am with the quality and design of your enclosure for our new Makergear M3-SE. We at Tandemloc, Inc. just purchased our first printer to manufacture some peripheral plastic components for our new automated lifter designs and the enclosure enables us to use the printer right in the engineering office, with no smell and no audible sound while printing. As a mechanical engineer I realize the amount of work that goes in to making something that works well and is simple to build. The fit and look is fantastic.

William D.
I just wanted to let you know how much I like my Prusa Mk3 enclosure. I'm not that handy but the videos and the instructions were first rate. The fit and finish of your product is really outstanding and I would highly recommend it to anyone. I was concerned about air quality. By having the enclosure venting outside, this has freed my mind to concentrate on the printing. Glorious!

James H.
I would like to commend you on the professionalism, great attention to detail, and pride each step of the way.

Chris C.
I was so pleased with the Prusa Mk3S+ and your enclosure so I went and bought another Prusa.

Jonas I.