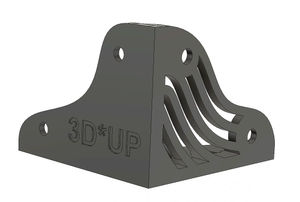 3D Printed Enclosure Parts
Regular price $40.00 Sale
Note:  All enclosures come with an option to include 3D printed parts.  This separate product listing is only if you change your mind later. 
A lot of customers prefer to print their own connector pieces themselves. We get it: you've got a great 3D printer, and it is itching to print things. No problem! The kit includes the STLs for all 3D printed parts. Typically it takes about 48 hours to print everything you'll need with a .4mm nozzle and .2mm layer height.
On the other hand, if you purchase this optional connector kit, all parts are 3D printed in the best quality American-made ABS.  It not only will withstand the heat year after year, but it's also one of the most rigid plastics to add that will make the enclosure sturdier. We proudly use the best ABS filament you can buy from Atomic Filament in Indiana. 
Includes
This includes all of the 3D-printed parts needed to finish your enclosure:
Corner connectors




Mid-Corner Connectors




Vents (if applicable)




Grommet holders




There are still small exceptions, for example, MMU2 spool holders from Prusa
DON'T USE PLA!
If you still want to print your own parts, just remember that temperatures inside an enclosure will melt PLA, so you will get the best results with printing parts in a high-quality ABS, ASA, Nylon, or PETG. The catch-22 is you need an enclosure to print ABS! If you don't already have an enclosure, you can make do with PETG. Just keep in mind that PETG is more flexible and will make the entire enclosure less rigid than if you had used ABS.